5 countries that everyone should visit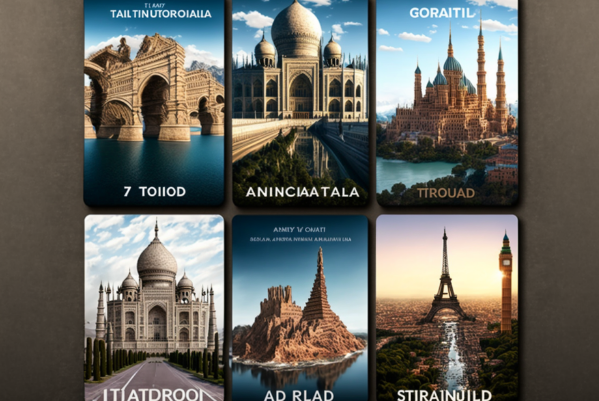 Travel by country is a type of travel that focuses on visiting a particular country or countries. This type of travel usually involves a combination of sightseeing, cultural immersion, and cultural exchange. Travelers typically visit cities and towns, explore the countryside, and engage in activities such as shopping, dining, and outdoor activities. Travelers may also take part in excursions and tours, such as guided hikes or bike tours. This type of travel is an excellent way to learn about different cultures, find out about a country's history and traditions, and experience a country in its full beauty.
A list of those countries that every traveler should visit:
Italy
With a mix of ancient ruins, stunning coastline, and beautiful cities, a trip to Italy is a must for any true traveler. From the Colosseum in Rome to the canals of Venice, there is something for everyone to explore.
Italy is a paradise for travelers looking for an unforgettable experience. From its stunning coastline to its historical cities, the country is jam-packed with attractions that will leave you with a lifetime of memories.
One of the main attractions of Italy is its amazing food. Italian cuisine is world-renowned for its fresh, flavorful ingredients and its delicious pasta dishes. Be sure to try some of the local specialties, like pizza, risotto, and tiramisu.
When it comes to sightseeing, Italy is home to some of the world's most iconic landmarks, such as the Colosseum in Rome, the Leaning Tower of Pisa, and the Grand Canal in Venice. History buffs can also explore ancient ruins like Pompeii, Ostia Antica, and the Forum in Rome.
Italy is a great destination for outdoor enthusiasts. From hiking the Amalfi Coast to skiing the Alps, the country has plenty of activities to keep you busy. Beach-goers can visit the Mediterranean beaches in Sicily or the crystal clear waters of the Adriatic.
For those looking for a unique experience, Italy is home to a wide array of cultural events, festivals, and celebrations. From the Carnevale di Venezia to the Palio di Siena, there's always something to do.
Whether you're looking for relaxation, adventure, or culture, Italy has something for everyone. Its breathtaking scenery, delicious cuisine, and vibrant culture make it one of the most popular destinations in the world.
India
From the hustle and bustle of the cities to the tranquility of its beaches, India has something to offer travelers of all stripes. A mix of culture and history, India is a great destination for those wanting to explore the wonders of the subcontinent.
India is an incredibly diverse country that offers something for everyone, from incredible wildlife experiences to historical sites and stunning beaches. Here are some reasons why India is a must-visit destination.
Incredible Landscapes: India has a variety of landscapes from the Himalayan Mountains in the north to the Thar Desert in the west, and everything in between. From the tropical beaches of Goa to the dense jungles of the northeast, you can find a wide range of scenery to explore during your visit to India.
Rich Culture: India is known for its vibrant culture and rich history. There are many ancient temples and monuments to explore, along with bustling cities and various festivals. From the traditional music and dance of the south to the cuisine of the north, India is full of cultural diversity.
Wildlife: India is home to a variety of wildlife, including tigers, elephants, rhinos, leopards, and many more. You can go on safari to explore the various parks and reserves in India, and observe some of the most magnificent animals in the world.
Shopping: Shopping in India is an experience like no other. From traditional handicrafts and souvenirs to modern clothing and jewelry, there is something for everyone. You can also shop for spices and herbs in the local markets and get great deals.
Cuisine: India is a food paradise, with its rich and varied cuisine. From spicy curries to sweet desserts, you can find something to suit everyone's palate. You can also try local delicacies such as street food, chaat, and samosas.
India is an amazing destination that has something for everyone. Whether you are looking to explore the amazing wildlife, experience the culture, shop, or eat, India has it all. With its incredible landscapes, rich culture, wildlife, shopping, and cuisine, India is a must-visit destination.
Australia
With its stunning landscapes and diverse wildlife, Australia is a great destination for adventure seekers and nature lovers alike. From the Great Barrier Reef to the Outback, Australia has something for everyone.
Australia is a vast and beautiful country filled with attractions and experiences like no other. With its stunning beaches, unique wildlife, vibrant cities, and diverse cultures, Australia is an ideal destination for travelers of all kinds.
Beaches: From the iconic Bondi Beach in Sydney to the crystal clear waters of Whitehaven Beach in the Whitsundays, Australia's beaches provide a variety of beautiful landscapes to explore. Whether you're looking for a relaxing beach walk, a spot of surfing, or a secluded area to swim, Australia has something for everyone.
Outdoor Activities: With its breathtaking natural scenery, Australia offers a range of outdoor activities to suit all interests. From bushwalking and climbing in the Blue Mountains to kayaking in the Great Barrier Reef and surfing in Byron Bay, there are plenty of ways to explore the great outdoors.
Wildlife: Australia is home to some of the world's most unique and fascinating wildlife, including kangaroos, koalas, platypus, and dingoes. Visitors can take a guided tour of the rainforest or spot some of the local wildlife in its natural habitat.
Greece
From the ancient ruins of the Parthenon to the stunning beaches of the Cyclades Islands, Greece is truly a must-visit destination. With a mix of culture and cuisine, there is something for everyone to enjoy.
Greece is renowned for its stunning scenery, picturesque islands, and fascinating culture. This Mediterranean country is also home to some of the most incredible archaeological sites in the world, including the Parthenon in Athens, the ancient city of Olympia, and the Sanctuary of Delphi. With its gorgeous beaches, crystal clear waters, and ancient ruins, Greece is a perfect destination for those seeking a mix of relaxation, adventure and cultural exploration.
For sun seekers, Greece's beautiful coastline offers plenty of options. There are secluded coves and quaint villages, as well as popular beach resorts with shopping and nightlife. From the stunning views of Santorini to the picturesque Cyclades Islands, the Greek Islands are a paradise for beach holidays.
Greece is also known for its vibrant nightlife. From the lively bars and clubs in Athens to the beachfront bars of Mykonos, there is something for everyone. And don't forget the delicious Greek cuisine. From the famous moussaka to the traditional Greek salad, there are plenty of dishes to enjoy.
For culture lovers, Greece's ancient ruins are a must-see. From the Acropolis in Athens to the ancient theatre of Ephesus, visitors can explore the country's rich history. There's also the beautiful Byzantine churches, like the Hagia Sophia in Istanbul, and the monasteries of Meteora.
Greece is also home to some of the world's most beautiful landscapes. From the mountain ranges of Meteora to the islands of the Aegean Sea, it's a paradise for outdoor enthusiasts. Whether you're looking for a relaxing getaway, an exciting adventure, or a cultural exploration, Greece has something for everyone.
South Africa
From the vibrant cities of Johannesburg and Cape Town to the stunning wildlife of Kruger National Park, South Africa is a country of great diversity. With a mix of cultures and stunning scenery, a trip to South Africa is sure to be an unforgettable experience.
South Africa is an incredible destination to visit, offering a wide range of attractions and activities to suit all types of travelers. From the breathtaking natural beauty of the Cape Winelands and Garden Route, to the diverse and exciting cities of Johannesburg and Cape Town, South Africa is an amazing holiday destination.
For the outdoor enthusiast, South Africa offers a variety of thrilling activities such as mountain biking, hiking, and 4×4 safaris. You can also enjoy some of the best game viewing in the world, with abundant wildlife in Kruger National Park, Kgalagadi Transfrontier Park, and the Hluhluwe-Imfolozi Game Reserve.
If you are looking for a cultural experience, South Africa has plenty to offer. The country is rich in history, with numerous museums and galleries to explore, as well as traditional villages and cultural attractions. South Africa also has a vibrant nightlife, with a range of bars and clubs to choose from.
Finally, South Africa is a great destination for beach lovers, offering stunning beaches and resorts along the Garden Route and Eastern Cape. There are also some of the world's best shark-diving locations off the coast of South Africa, as well as numerous opportunities for whale watching.
With its unique combination of stunning scenery, exciting activities, rich culture, and beautiful beaches, South Africa is an amazing destination to visit. There is something for everyone in this incredible country, so why not start planning your South African adventure today!
FAQ
Italy's most popular food?
Italy's most popular food is pasta, particularly variations of spaghetti and lasagna.
The quietest city in Greece?
The quietest city in Greece is Kalambaka, located in the north of the country, known for its monasteries built into the cliffs of Meteora.
The main attraction of Georgia?
The main attraction of Georgia is its many spectacular landscapes, ranging from lush green forests, snow-capped mountains, and rolling hills to the beautiful Black Sea coast.