The Best of South Africa: A Traveler's Guide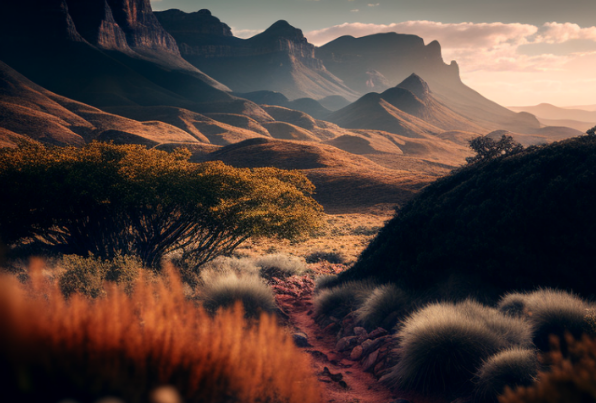 Practical Travel Tips
Plan Ahead: Planning ahead is essential for any South African holiday. Make sure that you research the best times to visit the country, as well as booking accommodations in advance. Also, check your passport for the appropriate visas that you may need to enter the country.
Currency: South Africa's currency is the South African Rand (ZAR). Make sure you're aware of the exchange rate and the best places to exchange your currency.
Get Local SIM: You can purchase a local SIM card from any major cellphone company in South Africa. This will allow you to stay connected with family and friends back home, as well as making it easier to get around with online maps.
Book Tours: Book any tours or safaris in advance to ensure availability. This will also allow you to find the best deals.
Bring Sunscreen: The sun in South Africa can be very strong, so be sure to bring along sunscreen to protect yourself from sunburn.
Have Fun: Finally, have fun and enjoy your time in South Africa!
Things to See and Do
South Africa is a beautiful country with a variety of attractions to explore. From the majestic mountains of the Drakensberg to the stunning wildlife of Kruger National Park, there are plenty of things to see and do in South Africa. Here are some of the top attractions to check out:
Table Mountain: This iconic flat-topped mountain towers over Cape Town and offers stunning views of the city and ocean. Take a cable car up the mountain to take in the incredible views.
Kruger National Park: One of the largest game reserves in Africa, Kruger National Park is home to an incredible array of wildlife, including the Big Five (lion, leopard, elephant, rhino and buffalo). Enjoy game drives, guided tours, and safari lodges for the ultimate African wildlife experience.
Robben Island: This island off the coast of Cape Town was once home to Nelson Mandela. Take a tour of the island to learn more about its history and explore the prison that Mandela was held in for 18 years.
Garden Route: This picturesque stretch of coastline between Cape Town and Port Elizabeth is a haven for outdoor activities. Enjoy stunning hikes, whale watching, and visit some of the quaint towns along the way.
Drakensberg Mountains: The highest mountain range in South Africa, the Drakensberg Mountains are a spectacular sight. Enjoy the mountain peaks, rolling hills, and lush forests on a hike or horseback ride.
National Museum: Get a glimpse of South Africa's history and culture at the National Museum in Cape Town. Explore artifacts and artworks from the country's past.
Township Tours: Take a tour of one of South Africa's many townships to learn more about the history and culture of the country.
Big Five Safari: Embark on a Big Five safari and spot some of Africa's most iconic wildlife, including the Big Five (lion, leopard, elephant, rhino and buffalo).
Top Attractions and Landmarks of South Africa
Table Mountain: Located in Cape Town, Table Mountain is one of the most iconic landmarks in South Africa. A flat-topped mountain, it rises up to 1086 meters above sea level and offers stunning views of the city and the surrounding area. It is a popular tourist spot and can be accessed by taking a cable car or hiking up the mountain.
Robben Island: Situated in Table Bay, Robben Island is the site of a former maximum security prison where Nelson Mandela and other prominent political prisoners were held for many years. The island is now a UNESCO World Heritage Site, and visitors can take a boat tour around the island and explore the prison.
Kruger National Park: Spanning nearly two million hectares across the provinces of Limpopo and Mpumalanga, Kruger National Park is one of the largest and most renowned game reserves in South Africa. It is home to an incredible array of wildlife, including lions, elephants, leopards, zebras and rhinos, and is one of the most popular tourist destinations in the country.
Blyde River Canyon: Also known as the Motlatse Canyon, Blyde River Canyon is one of the largest canyons in the world. It stretches across three provinces and is one of the most beautiful natural attractions in South Africa. Visitors can take a boat tour on the river or take a hike through the canyon for stunning views of the terrain.
Victoria and Alfred Waterfront: Located in Cape Town, the Victoria and Alfred Waterfront is one of the most popular tourist attractions in the city. The area is filled with shops, restaurants and entertainment venues, as well as a marina and an aquarium. Visitors can also take a boat tour to view the iconic Table Mountain from the water.
Wildlife and Nature Experiences
South Africa is a wildlife and nature lover's paradise. It's home to an incredible variety of landscapes, with diverse and unique flora and fauna. From the breathtaking beauty of the Cape Winelands to the vast savannahs of the Kruger National Park, there are a number of incredible experiences waiting to be had.
One of the best ways to explore South Africa's natural beauty is to go on a safari. With professional guides, you will be able to personally meet some of the most majestic animals in the world. Such as lions, rhinos, elephants and leopards, as well as rare bird species.
For a truly incredible experience, visitors can take a hot air balloon ride over the savannahs of the Kruger National Park. Gliding over the treetops, you'll get to observe the vastness of the park and the animals that wander its landscape.
If you are looking for adventures in the wilderness, consider visiting the national parks and reserves of South Africa. From Eddo Elephant National Park to Kgalagadi Border Park. You will be able to explore some of the most unspoilt areas of the country.
Of course, no visit to South Africa would be complete without taking a trip to the world-famous Cape Town. Here, you can take a stroll along the pristine beaches and enjoy the stunning scenery of Table Mountain. You can also explore some of the city's vibrant culture, with markets, museums, and art galleries.
No matter what type of wildlife and nature experience you're looking for, South Africa has something to offer. From safaris to hot air balloon rides, there's something for everyone. With its diverse and unique landscapes, South Africa is a perfect destination for anyone who loves the great outdoors.
Local Cuisine: What to Eat
South African cuisine is a unique and diverse blend of traditional African, Dutch, Indian and French influences. The diversity of cultures and origins in South Africa has created a rich and diverse cuisine. It can be found in restaurants and homes all over the country.
One of the most popular dishes in South Africa is the traditional braai, which is a barbecue of meat, usually beef, served with a variety of sauces. Boerewors, a spicy sausage, is also popular and can be found in many South African restaurants. Potjiekos, a stew cooked in a three-legged pot over an open fire, is another South African favorite.
Seafood is widely eaten in South Africa, with fish such as snoek, which is a smoked fish, and kabeljou, which is a type of cod, being particularly popular. Chowders and fish curries are also common dishes.
Indian influence on South African cuisine is evident in a wide variety of aromatic curries. Such as bobotik, a dish of minced meat with curry and spicy custard filling, and dhaltji, spicy potato pancakes.
The Dutch influence is evident in the traditional boerebeskuit, rusks made from buttermilk and served with cheese, and the mealiepap, a cornmeal porridge.
The traditional South African desserts are a mix of African, Dutch, and Indian influences. Mallow pudding is a sponge cake with sticky caramelized sauce. Cupcakes are deep-fried pieces of dough poured with syrup.
FAQ
What is the climate like in South Africa?
South Africa has a varied climate depending on the region. The western and southern coastal regions have a Mediterranean climate with warm, dry summers and cool, wet winters; the eastern coastline has warm, humid summers and mild, dry winters; and the interior regions are typically hot and dry with cold nights.
What type of currency is used in South Africa?
The currency used in South Africa is the South African Rand (ZAR). The land is divided into 100 cents.
Are there any safety considerations I should be aware of when traveling to South Africa?
Yes, it is important to be aware of local crime and safety concerns when traveling to South Africa. Visitors should stay in well-lit areas, remain alert and aware of their surroundings, and avoid carrying large amounts of money or displaying costly items. Travelers should also register with the local embassy or consulate upon arrival.